It's quick and easy to apply and pay online for your digital driver tacho card!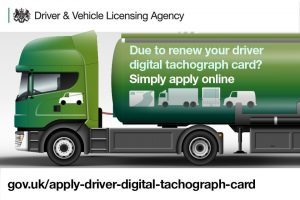 You can now apply and pay online for your driver digital tachograph card with DVLA. It's quicker and easier than a paper application.
The new DVLA digital service lets you apply, renew or replace a lost or stolen card in minutes and is available 24 hours a day, seven days a week.
Your new tachograph card will be issued by DVLA within 24 hours after applying online compared to 10 days or more if you post your application.
All you will need to apply online is your valid GB photocard driving licence and your credit or debit card.
After applying, you will receive an email notification from DVLA confirming your application, and you can choose to be updated on its progress by text message.
The driver digital tachograph card online application service can be accessed via GOV.UK at www.gov.uk/apply-driver-digital-tachograph-card.
Owing to the time they take to process, paper applications are taking longer than normal so if you do need to renew or replace your card, use the online service to get your card quicker.
You can contact DVLA here.