Tyres over 10 years old will be banned on heavy vehicles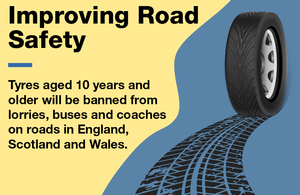 The subject of tyres has been discussed many times before but this was released by the DVSA on Wednesday. Therefore, please ensure that the checking of tyres (front's especially for this announcement), on your own fleet is carried out by either your drivers, tyre contractors or workshops. Please don't get caught out!!
The Department for Transport announced yesterday (15 July) that tyres aged 10 years or older will be banned on the front axles of lorries, buses and coaches using new laws.
You can read the full story in the Department for Transport's news article.
DVSA already checks for tyres over 10 years old during roadside enforcement stops. This change in the law will allow us to issue stronger penalties if found at roadside enforcement checks. This change also means the issue can be covered by the annual test (MOT) in the future.
Next steps The DVSA will update you with more information ahead of the change in the law being introduced.
At Transolva Ltd we are always trying to keep you informed of what's going on in the Road Transport and Passenger Transport industries so as we get more news and information we will publish it on here, our new website or for our customers, by email.
If you have any questions regarding this or hours or other law issues, please contact us:
Tel. no.: 01935 577007
Email.: [email protected]