Bridge strikes cause serious delay to rail services and other road users. Where buses are involved, there can also be injuries and even deaths. Operators are legally required to have systems in place to prevent bridge strikes occurring.
One large operator took action when they were involved in bridge strikes last year, including the use of route planning software. Here's what happened.
Learning lessons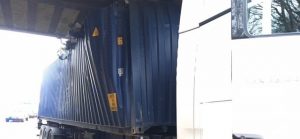 Following the first bridge strike, the operator investigated and rolled out fresh training for drivers, transport managers and planners. They also made sure that all sites had height measurement gauges. Following a second bridge strike, they realised they needed to do more, and explained what action they were going to take at a recent public inquiry in Bristol.
They commissioned a transport management solutions provider to develop a bespoke route planning system designed to prevent bridge strikes. Each vehicle and trailer in the fleet has an established running height on its technical record.
Read More